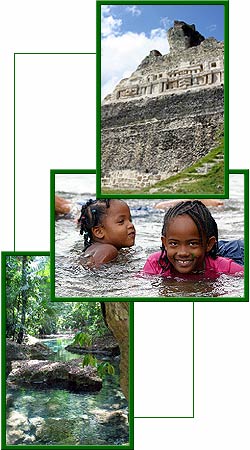 The Cayo district of Belize is where savannahs, pine and broadleaf forests meet rolling hills and the Maya Mountains. Within these diverse regions lie waterfalls, watersheds and rivers, sinkholes and caves, wildlife, birds and tropical flora. Add friendly, culturally-diverse people to this mix and you are in for a memorable eco-adventure vacation. And it all begins here at GoCayo.com

Naturalight Productions, in collaboration with the Belize Tourism Board, is developing this website, which, when completed, will:
provide comprehensive information on attractions, travel and activities in the Cayo district to potential visitors
give visitors access to licensed tourism service providers in the area
If you have visited the Cayo district or live in the area, please use the form below to send us your suggestions on:
specific attractions and activities to feature,
significant images to include, and
any other ideas that are important in portraying the Cayo district as a Belize tourism destination worth visiting.